Ever since the World Health Organization (WHO) categorized the coronavirus disease or COVID-19 as a pandemic, travel bans have been implemented, schools and universities have closed down, and mass public gatherings have been prohibited.
Large corporations, as well as small- to medium-sized businesses (SMBs) around the globe, are adopting work-from-home policies to keep their employees safe from the pandemic and ensure business operations continue.
However, transitioning from an office environment to a work-from-home setup is not that easy. There are more distractions when working from home, which can eventually lead to productivity loss. To overcome these challenges, here are some tips to help your employees stay productive while working from home.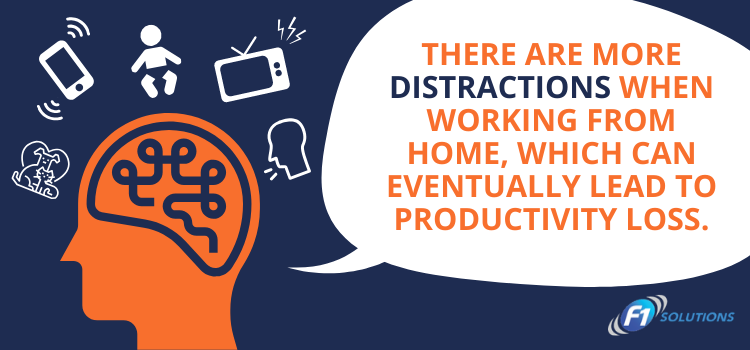 #1 Create a designated workspace
Since there are a lot of distractions when working from home, the first thing your employees need to do is find a space in their home that they can turn into a home office. Having a dedicated workspace can help free them from the many distractions of home life, therefore allowing them to focus on their tasks.
Any place that's separate from any communal space in their home will work. Some examples include a guest room, a corner of the living room, a basement, a walk-in closet, or an attic.
#2 Encourage them to dress up like they're going to work
Though it may sound weird, dressing up for work while at home is a good way to mentally prepare your employees for the tasks ahead. Wearing pajamas and sweatpants tend to make people think of their beds, whereas being dressed for business will give them the proper mindset to work productively throughout the day.
#3 Provide your employees with the proper tools
Since team dynamics will significantly change once your employees start working from home, you should provide them with the necessary tools to ensure they stay productive. These tools include:
Video conferencing apps such as Google Hangouts and Zoom
Project management apps like Trello, Asana, and Basecamp
Chat and messaging apps including Slack and Microsoft Teams
#4 Check in with your employees daily
Establishing daily check-ins will help ensure each one is doing their specific task. A video conference or one-on-one phone call is a good way to collaborate on projects.
Asking your employees to submit work reports at the end of the day is a good way to check their productivity, plus it gives you an idea of where you're currently at with certain projects.
#5 Provide emotional support
For some people, working from home for an extended period of time can contribute to the development of negative emotions such as loneliness and anxiety. It's your responsibility as a business owner to promote calm working conditions for your employees. You should be ready and available to offer emotional support as well as encourage self-care for employees who are finding it difficult to adjust to a work-from-home environment.
#6 Encourage exercising at home
Since your employee will be working within the confines of their own homes, there's always the risk that they will spend too much time being physically inactive. This can lead to serious health complications.
Encourage your employees to get up every 30 minutes and just walk around their homes. Help them come up with an exercise routine that they can do indoors to keep their level of physical activity high.
Transitioning from an office to a work-from-home setup can be hard, which is why you need the help of a reputable managed IT services provider (MSP) like F1 Solutions. We'll provide you and your team with the tools you need to stay connected and maintain a high level of productivity. Our free eBook will show you how you can benefit from partnering with us. Download it now.
Need tips to guide your workforce productivity through an on-going pandemic?
Click the button below to download our free ebook.