More and more businesses are leveraging IoT to automate repetitive tasks and optimize processes using distributed devices connected to the internet. However, IoT devices generate a huge amount of data that needs to be delivered and processed faster than ever. This is where edge computing comes in.
What is edge computing?
Edge computing is a process designed to improve web applications and internet devices by moving data processes running in the cloud closer to its sources, such as a local computer or IoT device. By doing so, a client (e.g., your PC) and server no longer have to rely on a cloud server that may be located thousands of miles away.
This eliminates long-distance communication between the client and server, minimizing latency issues that can affect the performance of applications used by your organization.
What are the security issues of using IoT devices and edge computing?
Bring your own device policies, as well as IoT devices utilizing edge computing, have significantly improved productivity by allowing employees to use devices they're already familiar with. However, introducing edge computing and IoT devices into your organization comes with the following security risks.
#1 Lack of security protocols
With 5G networks reducing the latency of data transmission, the number of connected devices will rapidly grow as more businesses use edge devices. Unfortunately, a lot of these edge devices do not have built-in security features and don't mandate authentication for third-party application programming interfaces (APIs). Since a lot of edge computing happens through APIs, the lack of proper security protocols makes IoT and edge devices easy targets for cybercriminals. Hackers can steal information directly from these devices, as well as infect them with malicious "bots".
#2 Weak Credentials
A lot of IoT devices are designed with a web-based management interface where users log in to perform routine tasks such as installing updates and adjusting device settings. These interfaces are protected by a default password that users should change after using it for the first time. Unfortunately, most users skip this critical step. IoT and edge devices with weak passwords are easy targets for hackers looking to steal information or use the devices to launch a cyberattack.
#3 Poor service visibility
Unlike company computers, IoT and edge devices can sometimes run services your IT staff or managed IT services provider (MSP) are unaware of. Some of these services are not secure and whenever they send data to a cloud-based server, there's a big chance for hackers to intercept that data.
What can you do to protect yourself?
Aside from avoiding the use of poorly secured IoT and edge devices at work, there are other ways you can protect your company's data.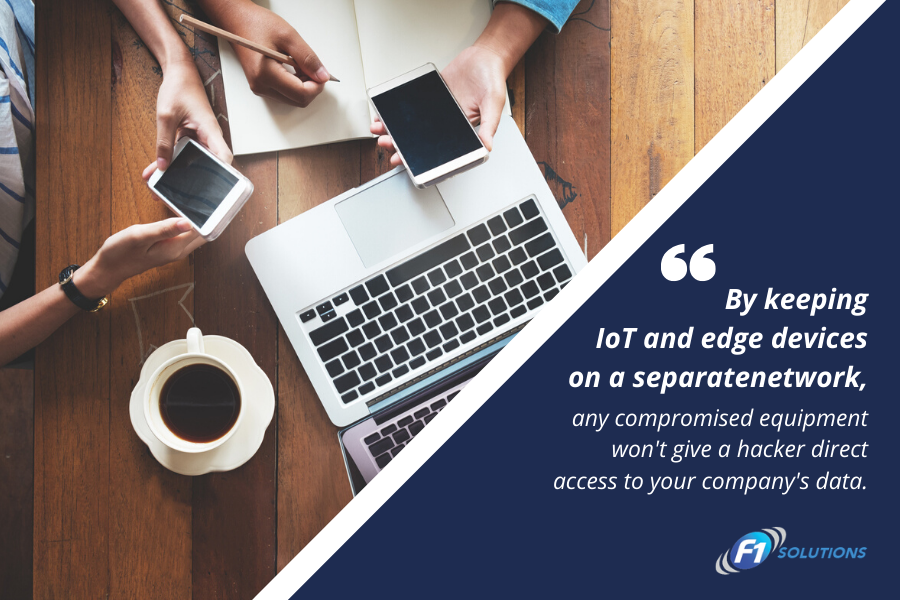 #1 Make an inventory of IoT and edge devices
The first thing your IT staff or MSP should do is find out which IoT and edge devices are connected to your network. Surprisingly, many businesses don't take the time to inventory the devices present in their workplace. This inventory actually serves the crucial purpose of looking for devices that shouldn't be connected to your network but are. Once these unauthorized devices have been identified, your IT staff or MSP should check what data is stored and transmitted by these devices. Unauthorized devices or those with privacy issues should be removed from your network immediately.
#2 Put IoT and edge devices on a separate virtual local area network (VLAN)
The Federal Bureau of Investigation (FBI) recommends putting IoT and edge devices on a separate Wi-Fi network or VLAN. This separate network will allow devices to access the internet, but not the private network of your business. By keeping IoT and edge devices on a separate network, any compromised equipment won't give a hacker direct access to your company's data.
To ensure your company data is safe from various forms of cyberthreats, you need to partner with a reputable MSP like F1 Solutions. Our IT experts will provide you with customized security solutions so your business won't fall victim to a data breach. To learn more about our cybersecurity services, download our free eBook today.